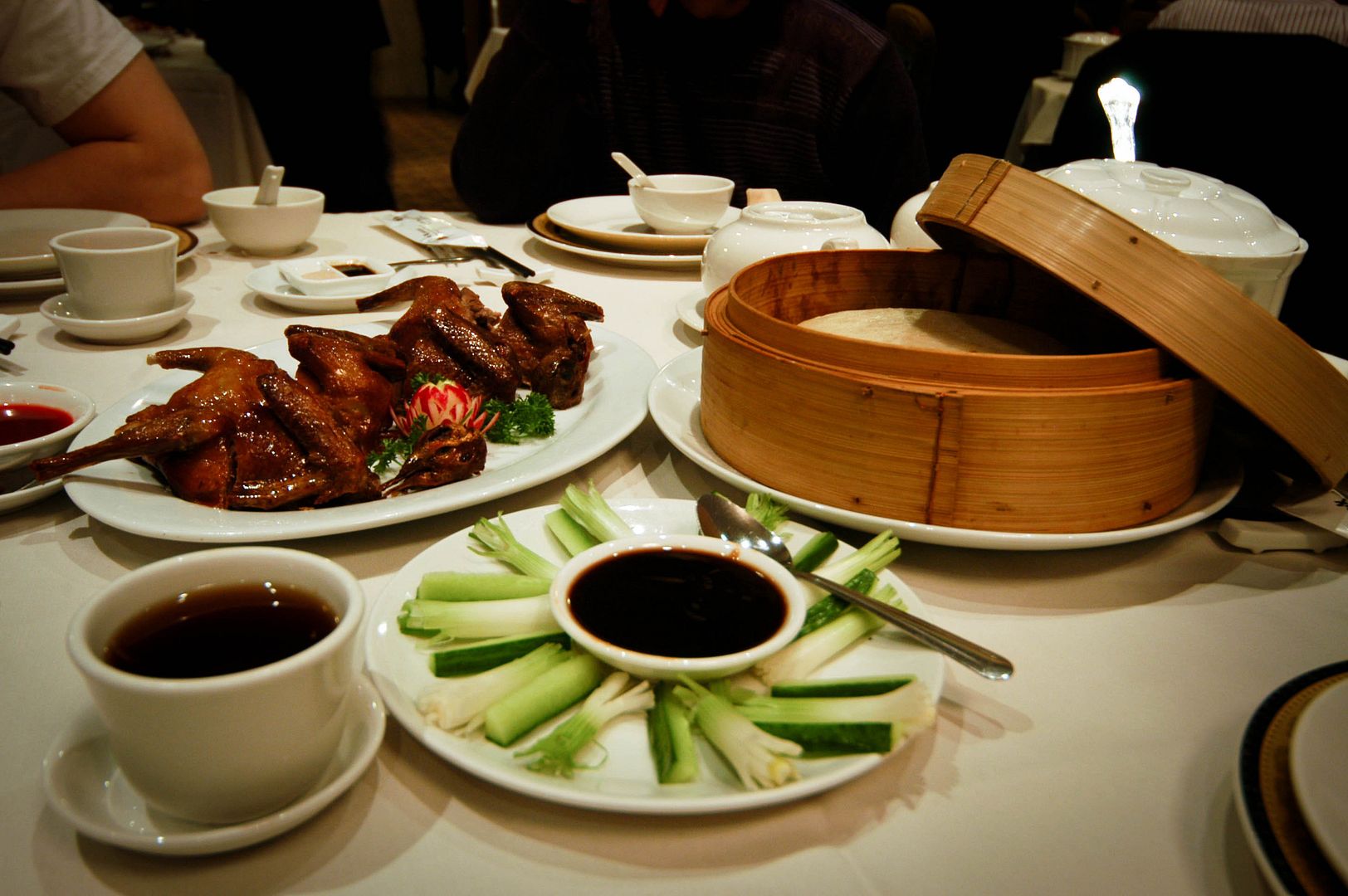 Roasted Squab & Mandarin Crepes (for the Peking Duck)
Being Chinese, my sister and I are not big fans of eating at traditional-seafood-Chinese restaurants because we eat it all the time. Chinese parents, Chinese cooking, go figure. However, there are some dishes that we don't normally see on the dinner table everyday such as roasted squab - and that was exactly what my sister was craving for for months. So on my sisters birthday, we went to Empire Seafood Restaurant. That was in February. Really backlogged (and there's more), I know.
I believe we chose the set meal which included a Fish Maw soup, 2 course Peking Duck meal (crispy duck skin with Mandarin crepes and stir-fried duck lettuce wraps), Garlic Steamed King Crab legs, deep fried King Crab, Bean Curd with Bok Choy, Fried 'Raw' noodle with bean-sprouts. I get the feeling I'm forgetting something, but this is the jist of it. On top of the set meal, we also ordered 3 Roasted Squabs.
Fish Maw soup is somewhat like an Asian style chowder. If you didn't know, fish maw, or the swim bladder, is the part of the fish that allows a fish to control its buoyancy. When cooked, it has a somewhat spongy-gelatinous texture. This soup was chocked full of fish maw, with bits of crab, and full of flavor. The Roasted Squab was served next. I think I prefer the squab at Empire more than at Sun Sui Wah - and so would my sister. The skin was roasted to a perfect dark roan red and was nice and crispy. Of course, it tasted just as good as it looked. As soon as your teeth broke through the crispy skin on the outside, your tongue gets a splash of flavor from the juicy meat. I drool just thinking about it. Not too long after, the first Peking Duck course arrived: slices of crisp duck skin and Asian shrimp chips served with Mandarin crepes, Hoisin sauce and green onions. This was my favourite dish of the whole night. The crepes were kept warm in a bamboo steamer and really thin and soft. I loved the contrast in texture and flavours. Soft then crisp, sweet and salty - with a kick from the green onion. The lettuce wraps in my opinion were so-so. The duck was stir-fried with a few vegetables and then served on a plate of crispy rice sticks. Nothing too special. The lettuce did provide a nice breath of freshness from the heaviness of the first courses.
Next up was the King Crab. The legs were steamed with garlic. A lot of garlic. So much garlic that I tasted garlic in my mouth the next day. All day. Despite that, the meat itself was really juicy. I didn't try the Deep Fried King Crab because my Parents tried it and said it was really spicy, so I stayed away from that. The Bean Curd and Bok Choy was nothing to rave about because it tasted exactly how it sounded, same with the Raw Noodles. After all our dishes were cleared away and packed up, we were given a complementary dessert like most Chinese restaurants. And like most Chinese restaurants, it was a dessert soup: sweet red beat soup with black glutinous rice. This was a really nice finish to the meal. Not too sweet and kind of refreshing. I also liked the bite that the rice gave in contrast to the texture of the beans.
What I did notice was that the servers would clear our plates really quickly - which is a good thing because hey, who wants to eat on dirty plates? Weird thing was, the servers seemed to be really efficient at clearing everyone's plate but mines. Weird. Overall though, we enjoyed the food at Empire. It was a pretty expensive dinner (more expensive than Sun Sui Wah) - the bill came to about $380 (including tips it was actually $480, really expensive for a party of 5!) and we have my sister's boyfriend, T, to thank for such a good meal!