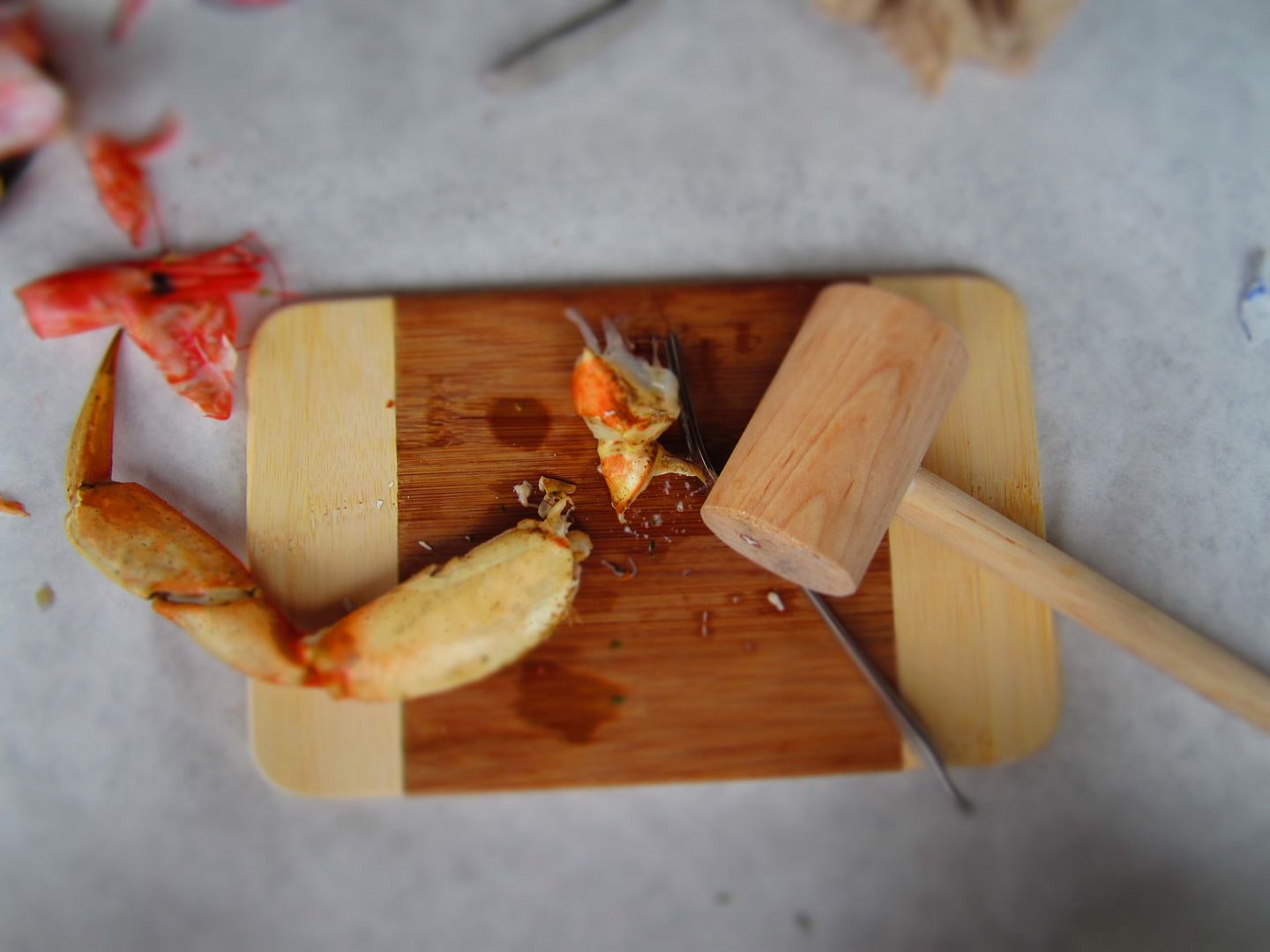 I have been dying to go to Steveston Fisherman's Wharf in Richmond for a while, and when it seemed like the weather had finally let up a bit, I dragged B to take me. Read all about my visit,
here
. Anyway, moving on. We were looking for something to eat, and originally, my perfect meal would be having fish and chips at the infamous, Pajo's. Unfortunately for us, they were closed. But because they were closed, we discovered another little gem located right next to Pajo's:
The Crab King
.
The concept behind The Crab King reminds me a bit of the Crab Pot - at least from what I can see and tell from pictures online. They serve fresh seafood, specializing in crab, as well as miscellaneous items on their menu like caesar salad, fries, poutines, hot-dogs, chicken strips and etc. I absolutely adore seafood and my favorite way to eat it is exactly what The Crab King serves: steamed, minimal seasoning, a wedge of lemon and tons and tons of butter. Butter by the pounds, I say. Jokes. I wish.
B and I first ordered one and a half pounds of mixed seafood: clams, mussels, and shrimp. It also came with a choice of a side and we picked something light and refreshing: the Caesar Salad. After ordering, the server let us choose a table to eat at on their heated and covered patio. It was really nice to eat on a little deck right above the water and still feel amazingly warm. When we sat down, the server swiftly laid out some parchment paper and brought over a few utensils, including a wet napkin (to clean our hands) and explained to us that the paper is for our shells. While waiting for our food, we noticed that there was an empty box of crayons lying around and we had ourselves a little crab drawing contest. First and foremost, before we get to the food, I like to say I won.


When our food arrived, I almost swooned at the sight of it. It seems like I do that a lot, huh? It was fragrant, and piping hot. They steamed it with just a little bit of herbs and that made the aroma even more enticing then it already was. The seafood was steamed to perfection, so tender, so fresh - no shell left un-open. The Caesar salad was a typical Caesar salad. Nothing too spectacular in flavoring but the crisp romaine and tangy dressing provided a refreshing change in taste and texture.
When we finished with our mixed seafood platter, B and I both caved in and decided to order half a crab to share. After ordering, the server once again came to hand us some extra wet naps as well as a handy-dandy wooden mallet and some bibs! Like, the seafood platter, the crab was steamed with a small amount of herbs and served with a lemon wedges on the side. The crab order was so worth it. So, so, so worth it. Hammering the crab shells was a bit messy but oddly enough, extremely satisfying - especially when you get nice big chunks of fluffy crab meat waiting to be dunked into clarified butter. Since we were there closer towards the end of the day, the server asked us, as well as the other diners, if we would like a complimentary bowl of miso soup - since they didn't want to waste it. We said yes of course.
Not only was the seafood fresh and delicious, the service was friendly and quick. Our whole meal came to be around $38 - not bad considering the amount we had, as well as it being fresh seafood. A large order of fish and chips at Pajo's is already about $15. In the end, we were more than satisfied with The Crab King and would definitely go again. Now when I'm at Steveston, I am going to have a hard time deciding between the two.