I figured since I live in an area that is quite literally surrounded by restaurants, I should at least try each of these restaurants at least once and hey, in the mean time, why not blog it? I will probably be more active on it after I finish my
March Photo A Day
on Instagram. Anyway.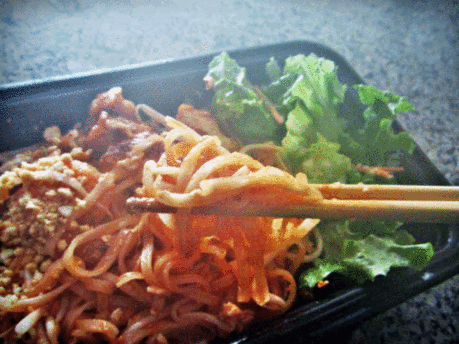 Nestled between a Pub and a Bike Shop is
Thai Away Home
: a little take-out restaurant, with some seating, serving Thai cuisine. I am not a big Thai food person as I can't handle spice and heat too well, or I just don't know what to order. So I went for the safe route, which is the most obvious: Pad Thai. It was part of a lunch "special" for $8, but I don't see what is so special about it besides it coming with a green salad - which I was really disappointed with. There was little to no dressing on it which kind of sucked because from what I could have tasted, the dressing had a really good brightness too it and complemented the slightly bitter dark greens. The Pad Thai itself was mediocre as well. There was a good amount of beansprouts and tofu - and that was about it for toppings. There were also two small pieces of shrimp in an ocean of noodles. It was almost like finding a needle in a hay stack; a shrimp in the ocean. Ha. Tastewise - I can`t really be the judge on what is authentic Thai or not - but I was satisfied with it. It was a bit sweet, a bit sour, and the heat was present, but not overwhelming at all.
I probably won't be making any special trips to Thai Away, but if I needed something fast and quick - I would... consider it.